O

nce a person is gainfully employed, he/she has to forget about personal life for sometime. But 'sometime' can extend up to well over a few years, and in some cases up to the age of 58. Things that were once taken for granted during college days, such as jogging along the shores of marina, reading newspaper after lunch and falling asleep, hanging out with friends, chatting for long hours over phone have all come under 'things to do' in the personal reminder.

Working for long hours should not be a problem to a bachelor, but I find my seniors (who're married) working for the same number of hours. Of course, one's wanting to go early largely depends on his/her spouse back home. They probably find work more interesting. There's one more problem in being a programmer...err don't call them problems, they're issues. Programming is like women, elusive when you go behind but when you stop caring, comes back to give you a nudge.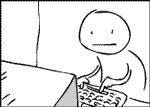 Weekend is a paradox; because the weeks don't end (but hey! Do you find a school of fish carry books along?). I find myself working for some dead line or the other. Dead lines give you turbulent sleeps, perhaps that's why they are called so. Never mind, we Indians carry a lot of burden on our shoulders at young ages, may be that's why India's hope for an Olympic gold lies in weight lifting.