O

nline communities such as Orkut lets you find friends. You'll love these portals more if your 'here for:' section says 'women (dating)'. Most women post their photos posing sideways to the camera. Incidentally, this is the same crowd that complains that men don't look at their eyes while speaking.

Among innumerable ways of winning a women's heart, such as buying jewellery by burning one's pocket to the other cost effective ways such as writing poems which involves using a lot of grey cells, Testimonials seem to be a better option. It also saves you from entering the elite club of 'worst pick up lines'. Tell a woman that she's got a beautiful smile and she'll respond to you, or at least you can expect a scrap in return.

But what does one mean by a thousand watt smile? I didn't know that you could measure the wattage of a smile. I know that a woman's smile is powerful, but didn't quite think it had a S.I unit.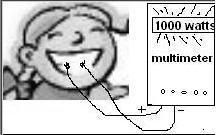 A testimonial is expressing admiration or appreciation of a person. It has to be earned, not gifted. I find every third person a 'genius', every second 'a really cool guy', and almost everyone 'smart, talented and lively' - no wonder India is churning out entrepreneurs in a hurry.

Mr. 'cool guy', in reality could be a person who would pee in his pants when the exam results come out, and the 'lively' character could be someone who would brush his teeth once a week to save himself from the tiring exercise of brushing everyday. What can I say about those '...I am sure he'll be a rocket scientist in life'? Let's hope to see such bright young men as the future presidents of India like kalam.
Most of us become generous while writing somebody's testimonial – it's after all a bunch of words isn't it?